DBSL would like to congratulate Roadstone B's Shane Merrigan on winning the fifth DBSL series handicap event today in Roadstone Snooker Club.
On route to the final, Shane took down Conor Harkin in his pre lim match and beat Lenny Malone in his last 16 match. He then went on to beat Robert Kenna 2-1 in the quarter finals and Daniel Merrigan 2-1 in a close fought semi final.
The final saw Shane come out victorious with a 2-1 win over George O'Hara of Roadstone E, who had a great run to the final beating Rob Garvey, Josh Cullen, Aidan phelan and Sean King along the way.
DBSL would also like to thank Stephen Merrigan and the Roadstone Club for their hospitality throughout the day.
Full details of the event below.
Winner and Runner up: Shane Merrigan and George O'Hara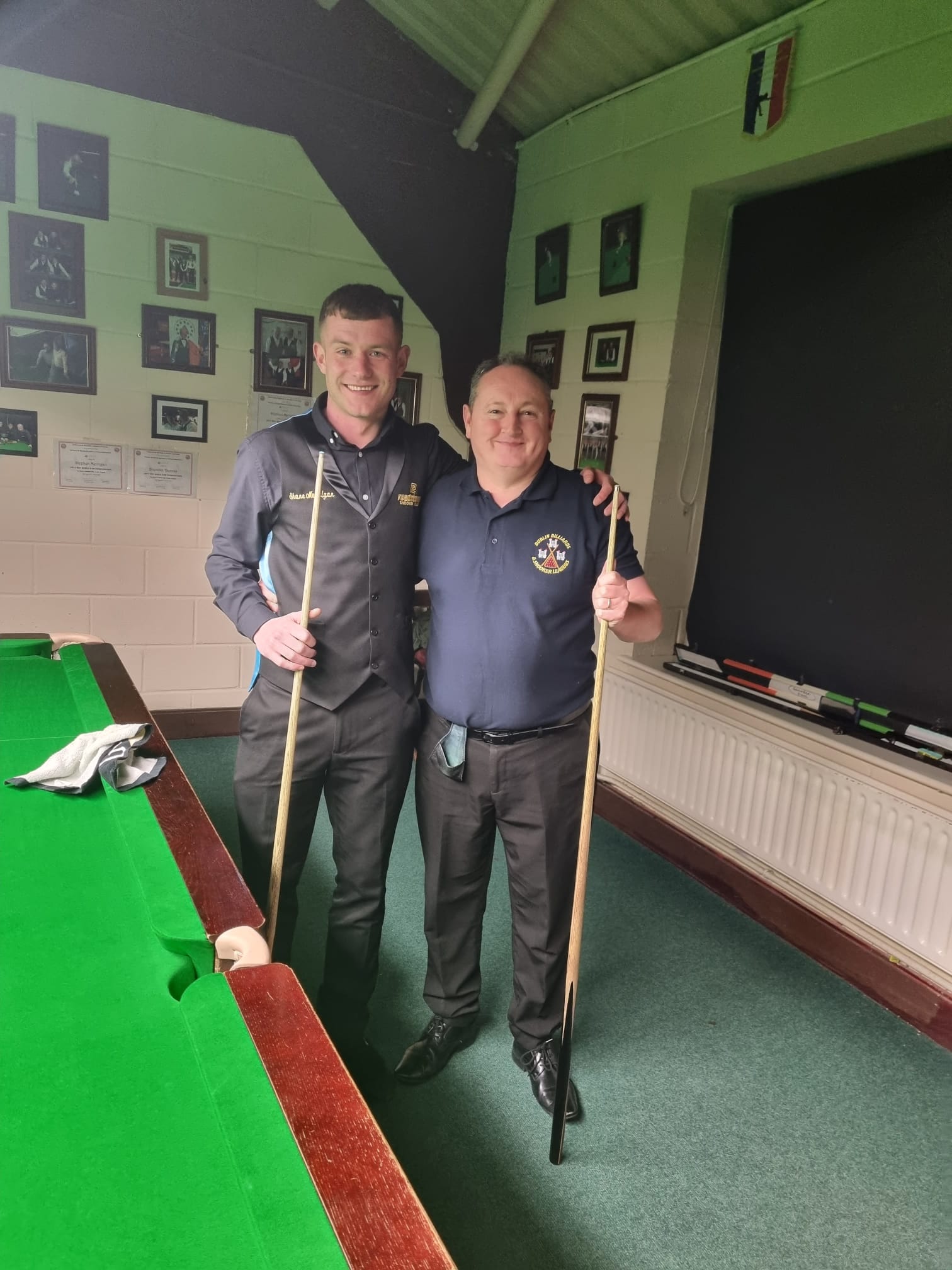 Draw
Pre-Lim Round
09.30am Start
+25
Gavin Stokes
2
v
1
Stephen Byrne Jnr
+30
09.30am Start
+40
Mark Nagle w/o
0
v
2
Tony O'Connor
+65
09.30am Start
+59
Rob Garvey
0
v
2
George O'Hara
+05
09.30am Start
+37
Aidan Phelan
2
v
0
Pat Smullen
+65
10.30am Start
+46
Tony Kenny
0
v
2
Robert Kenna
+22
10.30am Start
+48
Shane Merrigan
2
v
0
Conor Harkin
+36
10.30am Start
+65
Lenny Malone
2
v
0
Brian O'Rourke
+40
10.30am Start
+22
Daniel Merrigan
2
v
0
Dave Goddard
+54
11.30am Start
+25
Alan Byrne
0
v
2
Fergal Hagen
+50
11.30am Start
+60
Martin McDonald
2
v
0
Niall Lawless
+50
11.30am Start
+20
Robert Moynihan
1
v
2
Sean King
+30
11.30am Start
+55
Josh Cullen
2
v
0
Tommy Murphy
+25
Last 16
12.00pm Onwards
+20
Ivor Fitzpatrick
0
v
2
Sean King
+30
12.00pm Onwards
+25
Gavin Stokes
1
v
2
Tony O'Connor
+65
12.00pm Onwards
+05
George O'Hara
2
v
1
Josh Cullen
55
12.00pm Onwards
+37
Aidan Phelan
2
v
1
Daniel McNamee
+47
12.00pm Onwards
+75
Stephen Byrne Snr
1
v
2
Robert Kenna
+22
12.00pm Onwards
+48
Shane Merrigan
2
v
0
Lenny Malone
+65
12.00pm Onwards
+22
Daniel Merrigan
2
v
1
Fergal Hagen
+50
12.00pm Onwards
+60
Martin McDonald
0
v
2
Kevin O'Brien
+35
Quarter Finals
+30
Sean King
2
v
1
Tony O'Connor
+65
+05
George O'Hara
2
v
1
Aidan Phelan
+37
+22
Robert Kenna
1
v
2
Shane Merrigan
+48
+22
Daniel Merrigan
2
v
0
Kevin O'Brien
+35
Semi Finals
+30
Sean King
1
v
2
George O'Hara
+05
+48
Shane Merrigan
2
v
1
Daniel Merrigan
+22
Final
+48
Shane Merrigan
2
v
1
George O'Hara
+05
High Breaks of the Day
| Player | Team | Break |
| --- | --- | --- |
| Daniel Merrigan | Roadstone A | 68 |
| Daniel Merrigan | Roadstone A | 67 |
| George O'Hara | Roadstone E | 66 |
| George O'Hara | Roadstone A | 64 |
| Daniel Merrigan | Roadstone A | 64 |
| Shane Merrigan | Roadstone B | 61 |
| Shane Merrigan | Roadstone B | 55 |
| Robert Kenna | Roadstone C | 52 |
| Daniel Merrigan | Roadstone A | 48 |
| Martin McDonald | Roadstone C | 44 |
Event details
Venue: Roadstone
Entrance Fee: 20 Euro entry fee includes table charges
Format: All matches are best of 3
Handicaps: DBSL handicaps used
Time: 09.30am start
Dress code: Trousers and polo neck shirt