DBSL would like to wish Roadstone D a huge congratulations on winning the 2023 Dublin Club Championships. The event was successfully held jointly between Roadstone Snooker Club and Pioneers Snooker Club.
At the Roadstone venue, Roadstone D qualified top of their group, and proceeded to the semi final stages along with group runners up, Roadstone A. Meanwhile, at the Pioneers venue the two home teams Pioneers A and Pioneers B fought hard to qualify group winners and runners up respectively.
The first semi final commenced at the Roadstone Venue where Roadstone D faced Pioneers B. Roadstone D got off to a great start with their captain Philip McCaffrey beating Pionners B captain Daniel McNamee, followed by victories from Gavin Stokes over Stephen Byrne SNR, and Conor Harkin over Fergal Hagen to take Roadstone D to the final.
The second semi final saw Roadstone A getting off to a good start with Philip Browne beating Joey Kenny, of Pioneers A, 2-0 with a barrage of heavy scoring. Pioneers A answered back quickly with Brian O'Rourke beating Daniel Merrigan 2-0 to level the match at 1-1. Pioneers A then took the match lead 2-1 when Kevin O'Brien marginally beat Ian Smith 2-1 in a decider, before all eyes turned to the final fixture between Brendan Thomas of Roadstone A and Pete Conroy of Pioneers A. This nail biting fixture went down to a tense decider with a relieved Pete Conroy eventually beating Brendan Thomas 2-1 on the blue, after Brendan had gotten the two snookers he required to stay in the match.
The final between Roadstone D and Pioneers A brought the following match ups:
Table 1 – Peter Conroy v Gavin Stokes
Table 2 – Joey Kenny v Conor Harkin
Table 3 – Kevin O'Brien v Shane Merrigan
Table 4 – Brian O'Rourke v Philip McCaffrey
Roadstone D once again got off to a strong start with Shane Merrigan beating Kevin O'Brien on table 3 and finishing strong with a 2-0 scoreline. Roadstones reliable and formidable captain Philip Mc Caffrey then took down Brian O'Rourke on table 4, with Brian going in off the pink in an unlucky fashion and losing the game 2-0. There was slight hope for Pioneers A when Joey Kenny beat Conor Harkin 2-1 on table 2, to take the match to an overall 2-1 scoreline. However, it proved not enough as Gavin Stokes was in total control on table 1 laying almost next to impossible snookers against Peter Conroy. Pete battled hard but Gavin saw the match through 2-0 to take his team to a well deserved victory.
The highest breaks on the day of 78 and 80 was compiled by Philip Browne of Roadstone A.
Winners: Gavin Stokes, Philip McCaffrey, Conor Harkin, Shane Merrigan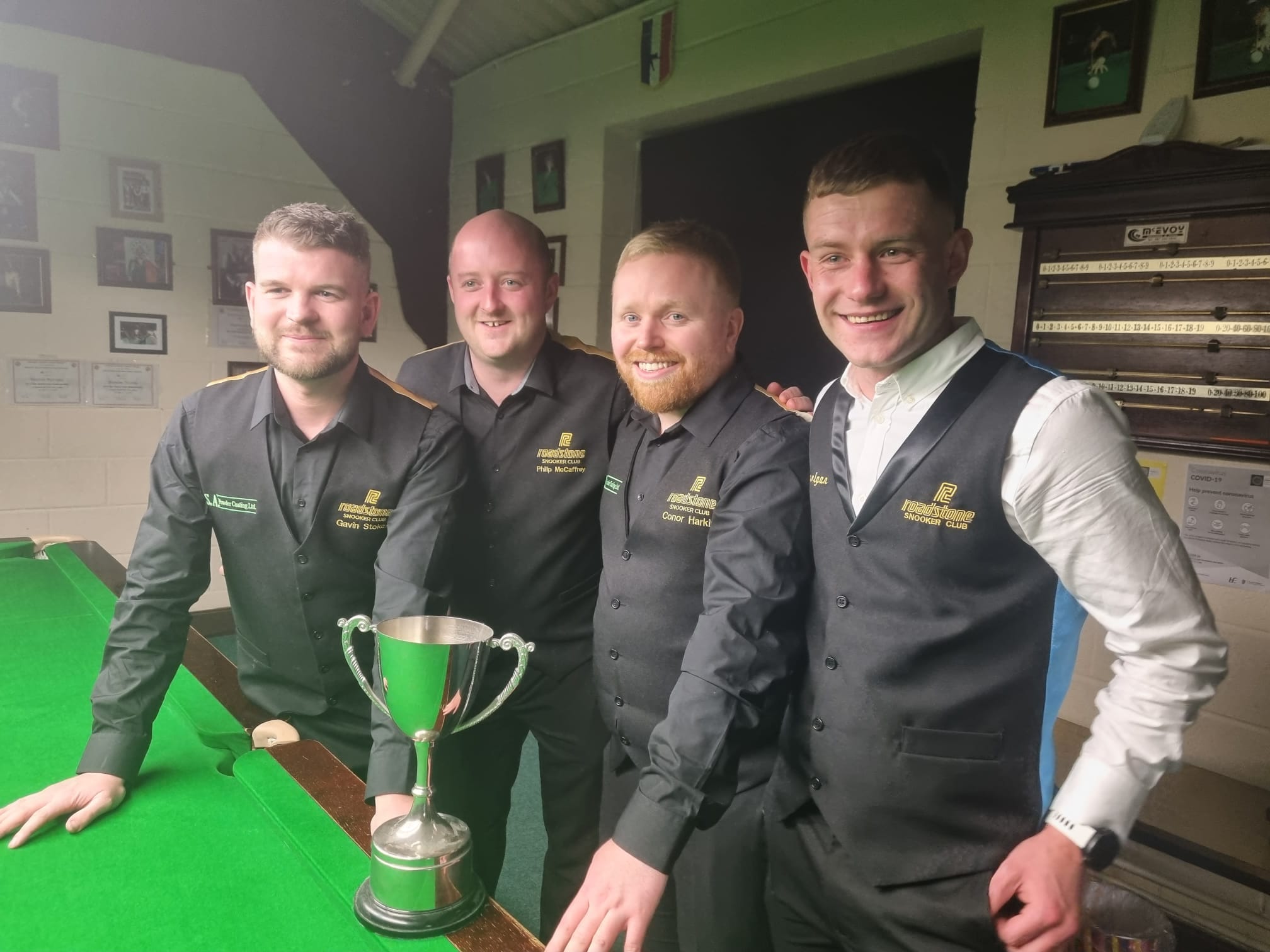 Finalists: Pioneers A and Roadstone D
Semi Finalists: Roadstone A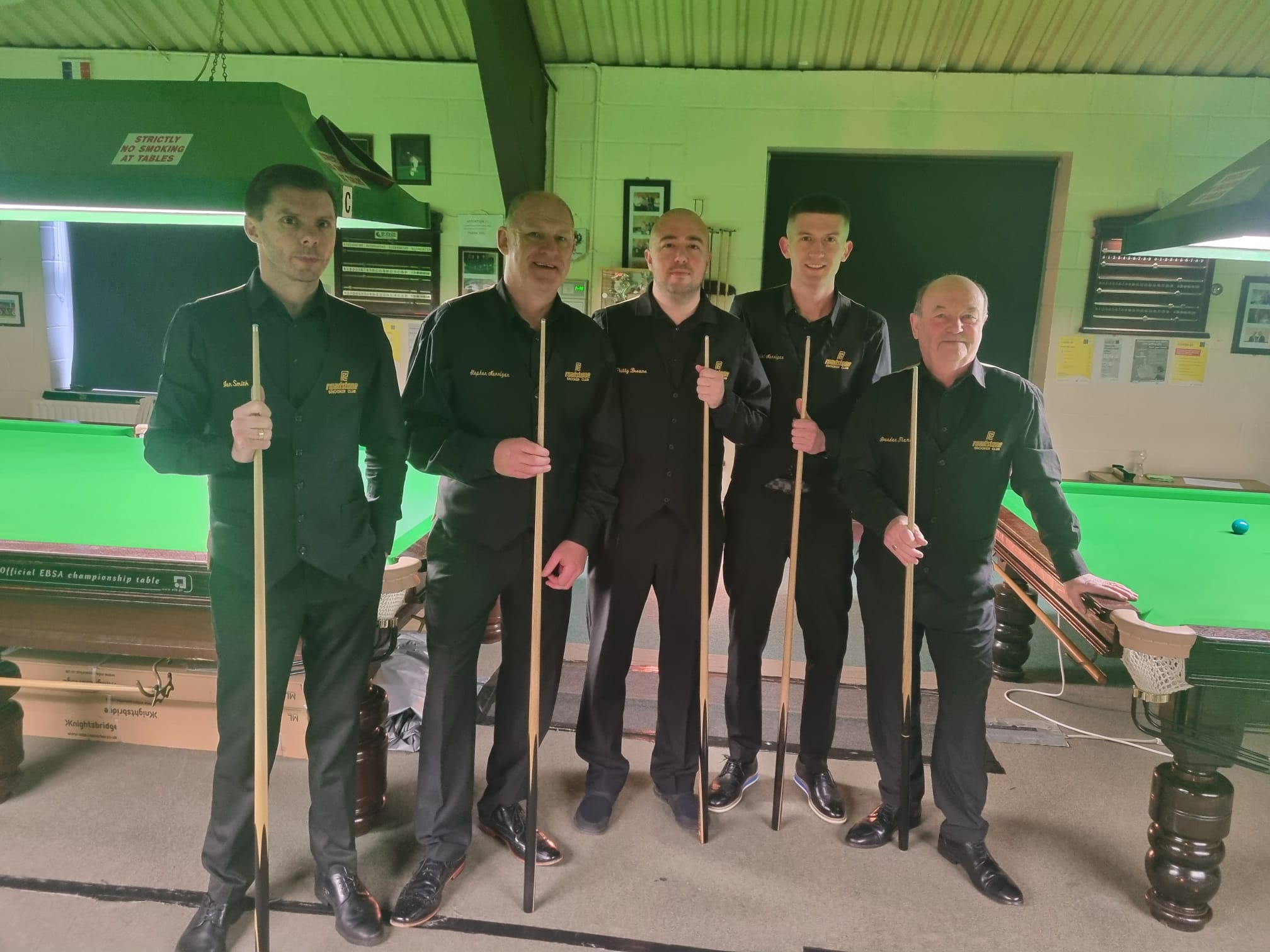 Semi Finalists: Pioneers B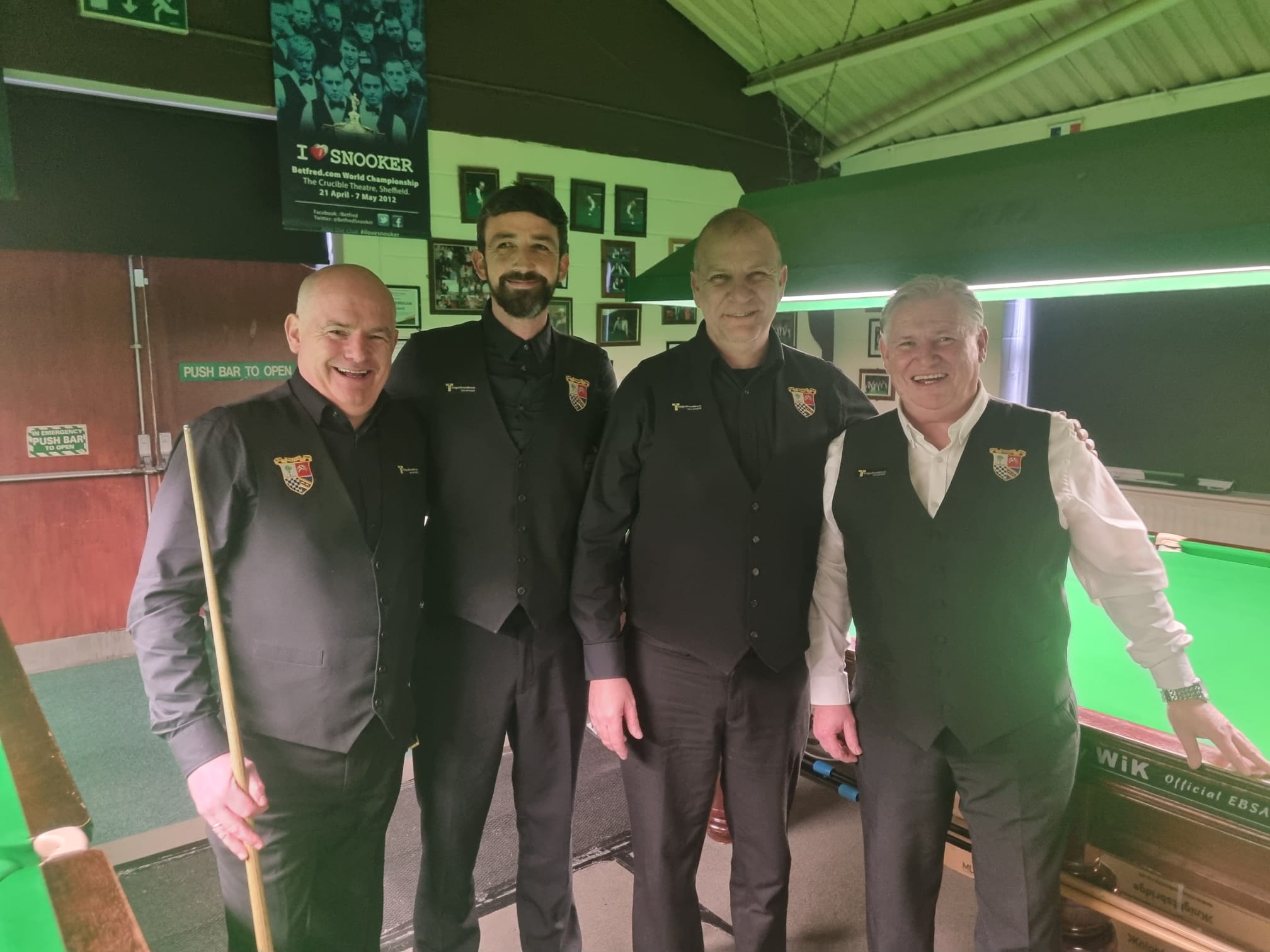 Champions: Roadstone D