Congratulations to Paddy Brady, of Willows B, who has won the DBSL individual 2022 title by beating back to back DBSL series finalist Philly Browne 3-0 in the final, making a solid 76 break in the final frame to take the victory.
On route to victory Paddy beat Ivor Fitzpatrick 3-2, in round 1, Daniel merrigan 3-1 in the quarter final and Tony Kenny 3-0, in the semi final.
Philly "The Finisher" Browne made it to his second consecutive final by beating Kevin O'Brien 3-1, in round 1, Lenny Malone 3-1, in the quarter final and his fellow team mate Ian Smith 3-1, in the semi final making breaks of 42, 52, 60 and 69 along the way
Once again, DBSL would like to thank the Roadstone Snooker Club for their hospitality throughout the day, along with the tournament director, Brendan Murphy.
Full details of the event below.
Winner and Runner up: Paddy Brady and Philly Browne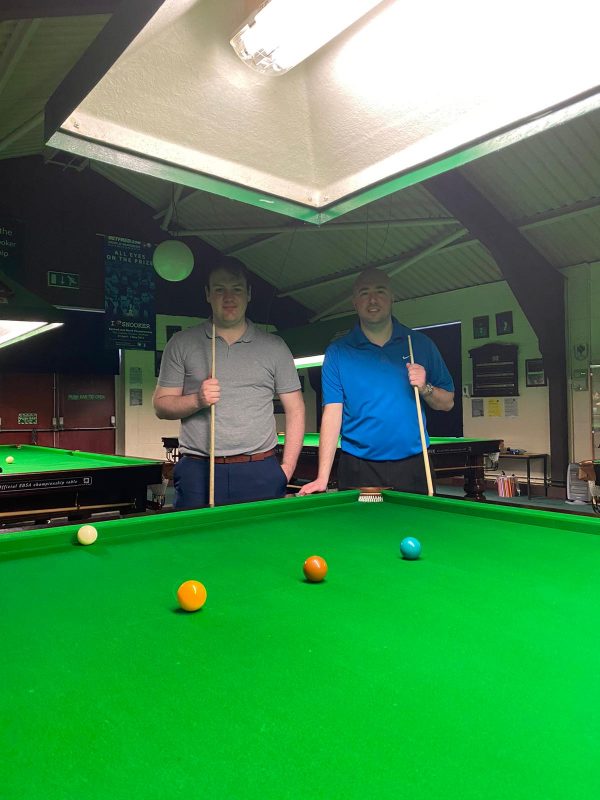 | Winner | Paddy Brady |
| --- | --- |
| Runner Up | Philip Browne |
Draw
First Round
+15
Brendan Thomas
1
v
3
Brian O'Rourke
+40
+35
Brendan Murphy
1
v
3
Tony Kenny
+49
+28
Daniel Merrigan
3
v
2
Rob Garvey
+59
+20
Ivor Fitzpatrick
2
v
3
Paddy Brady
+31
+05
Philip Browne
3
v
1
Kevin O'Brien
+35
+07
Philip O'Connor w/o
0
v
3
Lenny Malone
+65
+45
Dave Carton
0
v
3
Stephen Byrne Snr
+75
+10
Ian Smith
3
v
2
Niall Lawless
+50
Quarter Finals
+40
Brian O'Rourke
1
v
3
Tony Kenny
+49
+28
Daniel Merrigan
1
v
3
Paddy Brady
+31
+05
Philip Browne
3
v
1
Lenny Malone
+65
+10
Ian Smith
2
v
2
Stephen Byrne Snr
+75
Semi Finals
+49
Tony Kenny
0
v
3
Paddy Brady
+31
+05
Philip Browne
3
v
1
Ian Smith
+10
Final
+05
Philip Browne
0
v
3
Paddy Brady
+31
Event details
Venue: Roadstone
Entrance Fee: 20 Euro entry fee includes table charges.
Format: All matches are best of 5
Handicaps: DBSL handicaps used.
Time: 10.00am Start
Dress code: Trousers and polo neck shirt