The DBSL would like to congratulate Daniel "The Machine" Merrigan on winning the second DBSL series handicap event held today in the Pioneers Snooker Club.
Daniel got off to a flying start to the day with a break of 57 in his first frame, taking down both Stephen Byrne Snr 2-0 in his round one match, and Tony O'Connor 2-0 in his last 16 match.
In the quarter final he faced an in form Niall Lawless but quickly disposed of him 2-0 before moving on to the semi final where he faced a tough opponent in Mark Dunne of Pioneers Pink. The match was tight and a decider was forced but the Machine prevailed again with a 2-1 win and booking himself a place in the final against the mighty Wolf of the Pioneers, Ivor Fitzpatrick.
Ivor himself had a great run to the final beating George O'Hara 2-0, (a match worthy of a final), in his first round match, then taking down Peter Conroy 2-1 in his last 16 match. He went on to beat Daniel McNamee 2-1 in the quarter final and Shane Merrigan 2-1 in the Semi Final.
The final took place live on Table 4 with Daniel taking the first frame to go 1-0 before Ivor came back strong at him pushing the game into a well deserved decider that everyone wanted to see. Daniel punched first in the decider with a modest 21 break but continued on, maintaining control throughout the remainder of the decider, taking victory 2-1 over Ivor.
DBSL would also like to thank Tournament Director Niall Lawless and the Pioneer Club for their hospitality throughout the day. A special thanks to Mark Dunne for supplying the food for the event.
Full details of the event below.
Runner Up and Winner: Ivor Fitzpatrick and Daniel Merrigan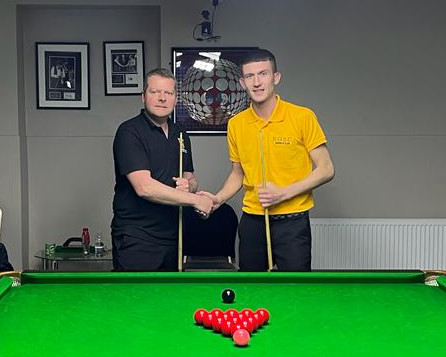 Draw
Pre Lim
+40
Ronan Deegan
0
v
2
Niall Lawless
+50
+10
Daniel Merrigan
2
v
0
Stephen Byrne Snr
+75
+67
Tony O'Connor
2
v
0
Diarmuid O'Connor
+22
+65
Stephen Corrigan
2
v
0
Conor Gaffney
+36
+15
Dane Daly
2
v
1
Alan Fitzpatrick
+55
+63
Mark Dunne
2
v
0
Martin Garland
+38
+15
Ivor Fitpatrick
2
v
0
George O'Hara
+05
+68
Ray Kearns
2
v
0
Fergal Hagen
+50
+63
Dehna Bennett
0
v
2
Daniel McNamee
+47
+45
Sean Hart
0
v
2
Shane Merrigan
+48
+73
Andrew Harvey
1
v
2
Kevin O'Brien
+33
+42
Joey Kenny
2
v
0
Pat Smullen
+67
Last 16
+36
Conor Harkin
0
v
2
Niall Lawless
+50
+10
Daniel Merrigan
2
v
0
Tony O'Connor
+67
+65
Stephen Corrigan
0
v
2
Dane Daly
+15
+40
Brian O'Rourke
0
v
2
Mark Dunne
+63
+57
Peter Conroy
1
v
2
Ivor Fitpatrick
+15
+68
Ray Kearns
0
v
2
Daniel McNamee
+47
+48
Shane Merrigan
2
v
1
Kevin O'Brien
+33
+73
Daniel Brcko
2
v
1
Joey Kenny
+42
Quarter Finals
+50
Niall Lawless
0
v
2
Daniel Merrigan
+10
+15
Dane Daly
0
v
2
Mark Dunne
+63
+10
Ivor Fitpatrick
2
v
1
Daniel McNamee
+47
+48
Shane Merrigan
2
v
0
Daniel Brcko
+73
Semi Finals
+10
Daniel Merrigan
2
v
1
Mark Dunne
+63
+15
Ivor Fitpatrick
2
v
1
Shane Merrigan
+48
Final
+10
Daniel Merrigan
2
v
1
Ivor Fitzpatrick
+15
| Player | Break |
| --- | --- |
| Ivor Fitpatrick | 68 |
| Daniel Merrigan | 57 |
Event details
Venue: Pioneers
Entrance Fee: 20 Euro entry fee includes table charges
Format: All matches are best of 3
Handicaps: DBSL handicaps used
Time: 09.30am start
Dress code: Trousers and polo neck shirt