DBSL would like to congratulate Roadstone D's Conor Harkin on winning the first instalment of the DBSL series handicap events today in Roadstone Snooker Club.
On a long route to the final, Conor took down Lenny Malone in his pre lim match and beat Niall Lawless in his last 16 match. He then went on to beat George Murphy 2-1 in a close fought quarter final and Brian "The Rocket" O'Rourke 2-0 in the semi final.
The Epic final saw Conor come out victorious, marginally beating Pioneer Pink's Daniel Brcko 2-1, in a nail biting decider which went down to he final black.
Daniel himself had a fantastic and well deserved run to his debut final beating Tony Kenny, Brendan Canavan, Andrew Doherty and Martin McDonald along the way.
As always, DBSL would also like to thank Stephen Merrigan and the Roadstone Club for their hospitality throughout the day.
Full details of the event below.
Winner and Runner up: Conor Harkin and Daniel Brcko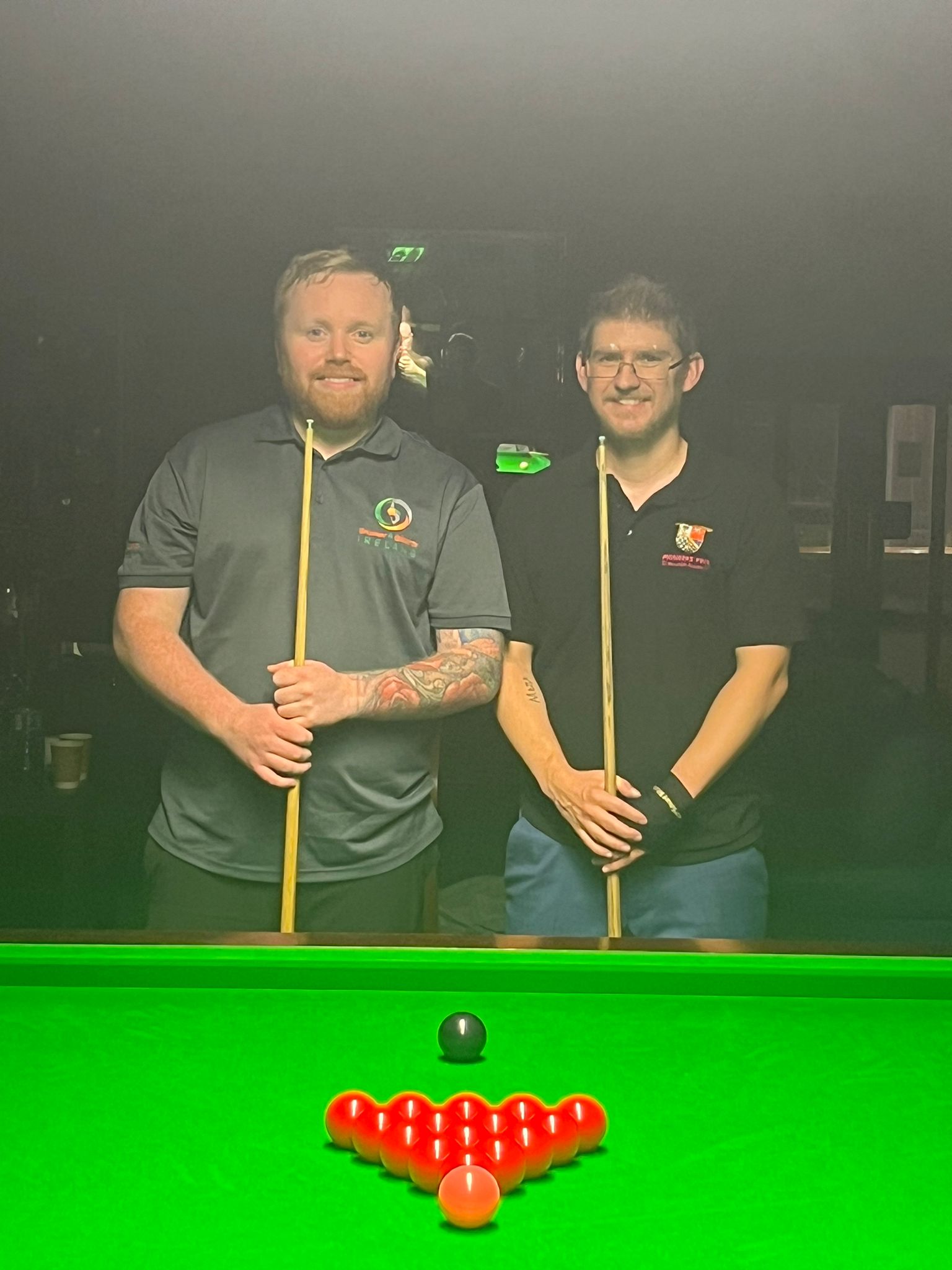 Draw
Pre-Lim Round
+63
Dehna Bennett
2
v
1
Dave Goddard
+54
+28
Paddy Brady
2
v
0
Alex Hooper
+75
+73
Daniel Brcko
2
v
1
Tony Kenny
+46
+65
Mustaffa
2
v
1
Robert Kenna
+25
+33
Kevin O'Brien
2
v
0
Paul Arnold
+39
+40
Brian O'Rourke
2
v
0
Jay Doyle
+65
+67
Tony O'Connor
2
v
1
Stephen Byrne Sr
+75
+65
Lenny Malone
1
v
2
Conor Harkin
+36
Last 16
+58
Martin McDonald
2
v
0
Dehna Bennett
+63
+10
Daniel Merrigan
1
v
2
Paddy Brady
+28
+44
Brendan Canavan
1
v
2
Daniel Brcko
+73
+11
Andrew Doherty
2
v
0
Mustaffa
+65
+57
Peter Conroy
2
v
0
Kevin O'Brien
+33
+67
Pat Smullen
0
v
2
Brian O'Rourke
+40
+34
George Murphy
2
v
1
Tony O'Connor
+67
+50
Niall Lawless
1
v
2
Conor Harkin
+36
Quarter Finals
+58
Martin McDonald
2
v
1
Paddy Brady
+28
+73
Daniel Brcko
2
v
0
Andrew Doherty
+11
+57
Peter Conroy
1
v
2
Brian O'Rourke
+40
+34
George Murphy
1
v
2
Conor Harkin
+36
Semi Finals
+58
Martin McDonald
1
v
2
Daniel Brcko
+73
+40
Brian O'Rourke
0
v
2
Conor Harkin
+36
Final
+36
Conor Harkin
2
v
1
Daniel Brcko
+73
Event details
Venue: Roadstone
Entrance Fee: 20 Euro entry fee includes table charges
Format: All matches are best of 3
Handicaps: DBSL handicaps used
Time: 09.30am start
Dress code: Trousers and polo neck shirt