DBSL would like to wish a huge congratulations to Ivor "The Wolf" Fitzpatrick on winning the new 2023 Dublin Individual Championships which was held over two days in Roadstone and Pioneers Snooker Club on the 15th/16th April 2023.
Ivor's road to victory started Saturday morning with a solid win, in round 1, over Eric Pei, beating him 3-0, including a break of 86, before taking down Pioneers Pink's Daniel Brcko 3-1 in the last 16. The quarter final on Sunday morning saw Ivor take another solid 3-0 win, this time over Pool Knight Shack's Alan Byrne with a break of 70 along the way.
Ivor was in fine form heading into the Semi final meeting another Pioneers Pink Peter Conroy where the game drew level at 1-1 before Ivor grew stronger and took the match with a 3-1 in the end.
The final showdown saw Ivor take on the strong competitor Paul Dunne from Pool Knight Shack. Ivor was strong in the early part of the final getting off to a 2-0 lead before Paul Dunne took the third frame taking the match to 2-1. The fourth frame was a battle showing some decent tactical play from both players, but Ivor "The Wolf" Fitzpatrick finally secured the frame in the end winning the match 3-1.
Paul's impressive run to the final began in the pre-lim rounds beating Sean King of Willow's B 3-1, and Stephen Reddington of Roadstone E 3-1 in round 1, before eventually coming out victorious of Roadstone A's Daniel Merrigan with a 3-2 win in the last 16. On Sunday morning Paul beat Stephen Byrne Snr of Pioneer's Blacks 3-2 and Brendan Canavan of Roadstone C with a scoreline of 3-1.
DBSL would like to thank both Roadstone Snooker Club and Pioneers Snooker Club for hosting the event, including Niall Lawless, Mick Kearns, Brendan Murphy, Ivor Fitzpatrick, Kevin O'Brien and Stephen Merrigan for showing a great deal of hospitality to all the players throughout the event and a big thank you to Alan Byrne of Pool Knight Shack for refereeing the final.
DBSL would like to especially thank First Aid Systems Ltd for sponsoring the event which has hugely helped support this great tournament and Snooker growth in Dublin.
Winner and Runner-up: Ivor Fitzpatrick and Paul Dunne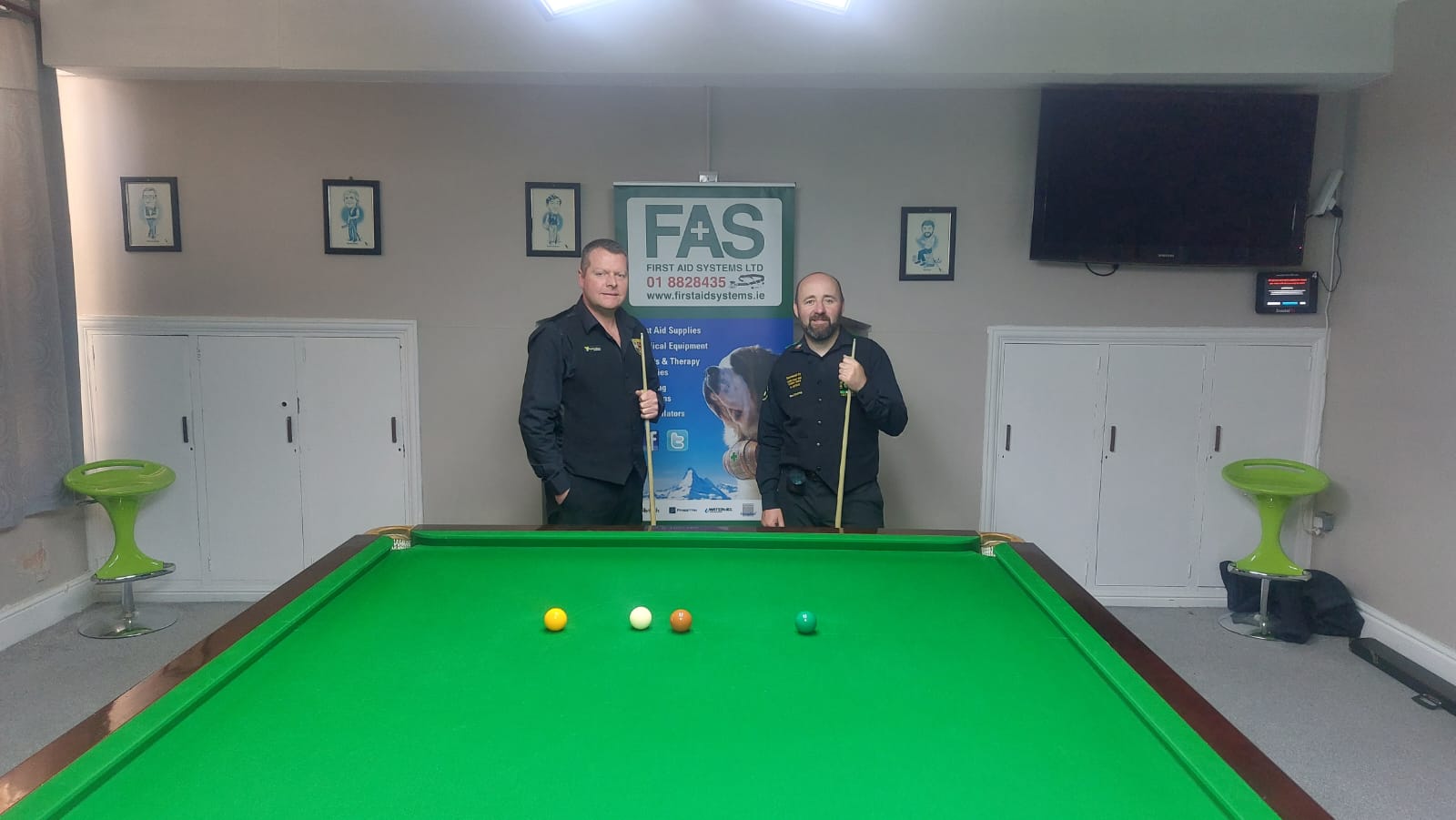 Full details of the event below.
Draw
Pre-Lim Round Roadstone
+59
Rob Garvey
3
v
0
Dylan Carey
+25
+34
George Murphy
0
v
3
Tony O'Connor
+65
+28
Sean King
1
v
3
Paul Dunne
+10
+20
Daniel Merrigan
3
v
1
Dave Goddard
+54
Pre Lim Round Pioneers
+40
Brian O'Rourke
2
v
3
Peter Conroy
+57
Round 1 – Roadstone Venue – Top Half of Draw
+33
Brendan Murphy
1
v
3
Mark Campbell
+45
+47
Daniel McNamee
0
v
3
Brendan Canavan
+41
+70
Dehna Bennett
0
v
3
Tony Kenny
+46
+48
Shane Merrigan
1
v
3
Shane Mason
+75
+75
Stephen Byrne Snr
3
v
0
Rob Garvey
+59
+37
John Maher
0
v
3
Tony O'Connor
65
+10
Stephen Reddington
1
v
3
Paul Dunne
+10
+15
Dane Daly
0
v
3
Daniel Merrigan
+20
Round 1 – Pioneers Venue – Bottom Half of Draw
+70
Daniel Brcko
3
v
1
Joey Kenny
+42
+25
Eric Pei
0
v
3
Ivor Fitzpatrick
+20
+25
Alan Byrne
3
v
0
Robert Moynihan
+23
+45
Dave Carton
3
v
0
Darren Savage
+25
+28
Paddy Brady
0
v
3
Niall Lawless
+50
+65
Pat Smullen
0
v
3
Fergal Hagen
+50
+39
Aidan Phelan
3
v
2
Kevin O'Brien
+33
+49
Sean Hart
0
v
3
Peter Conroy
57
Last 16
+45
Mark Campbell
1
v
3
Brendan Canavan
+41
+46
Tony Kenny
0
v
3
Shane Mason
+75
+75
Stephen Byrne Snr
3
v
2
Tony O'Connor
+6
+10
Paul Dunne
3
v
2
Daniel Merrigan
+20
+70
Daniel Brcko
1
v
3
Ivor Fitzpatrick
+20
+25
Alan Byrne
3
v
0
Dave Carton
+45
+50
Niall Lawless
1
v
3
Fergal Hagen
+50
+39
Aidan Phelan
0
v
3
Peter Conroy
57
Quarter Finals
+41
Brendan Canavan
3
v
1
Shane Mason
+75
+75
Stephen Byrne Snr
2
v
3
Paul Dunne
+10
+20
Ivor Fitzpatrick
3
v
0
Alan Byrne
+25
+50
Fergal Hagen
1
v
3
Peter Conroy
57
Semi Final
+41
Brendan Canavan
1
v
3
Paul Dunne
+10
+20
Ivor Fitzpatrick
3
v
1
Peter Conroy
+57
Final
+20
Ivor Fitzpatrick
3
v
1
Paul Dunne
+10
| Player | Break |
| --- | --- |
| Ivor Fitzpatrick | 86 |
| Paul Dunne | 73 |
| Ivor Fitzpatrick | 70 |
| Ivor Fitzpatrick | 50 |
| Paul Dunne | 64 |
Event details
Venue: Roadstone and Pioneers
Entrance Fee: 20 Euro entry fee includes table charges
Format: All matches are best of 5
Handicaps: DBSL handicaps used
Time: 09.30am start
Dress code: Full Dress Code