Congratulations to Jay "Krafty" Keogh, of the Pioneers Blue snooker team, who took down the DBSL Handicap Tournament Series 1 today in the Pioneers Snooker Club. On the way to victory, Jason beat Brian O'Rourke 2-1 in round 1, took down steady Pat Smullen 2-1 in the quarter final and won a close fought semi final match 3-2 against Kevin O'Brien.
Jason went on to beat Alan Fitzpatrick of Pioneers Whites 3-1 in the final.
DBSL would like to thank the Pioneers Snooker Club, especially Ivor Fitzpatrick for his hospitality throughout the day, along with the tournament director, Brendan Murphy.
Full details of the event below.
Winner and Runner Up: Jason Keogh and Alan Fitzpatrick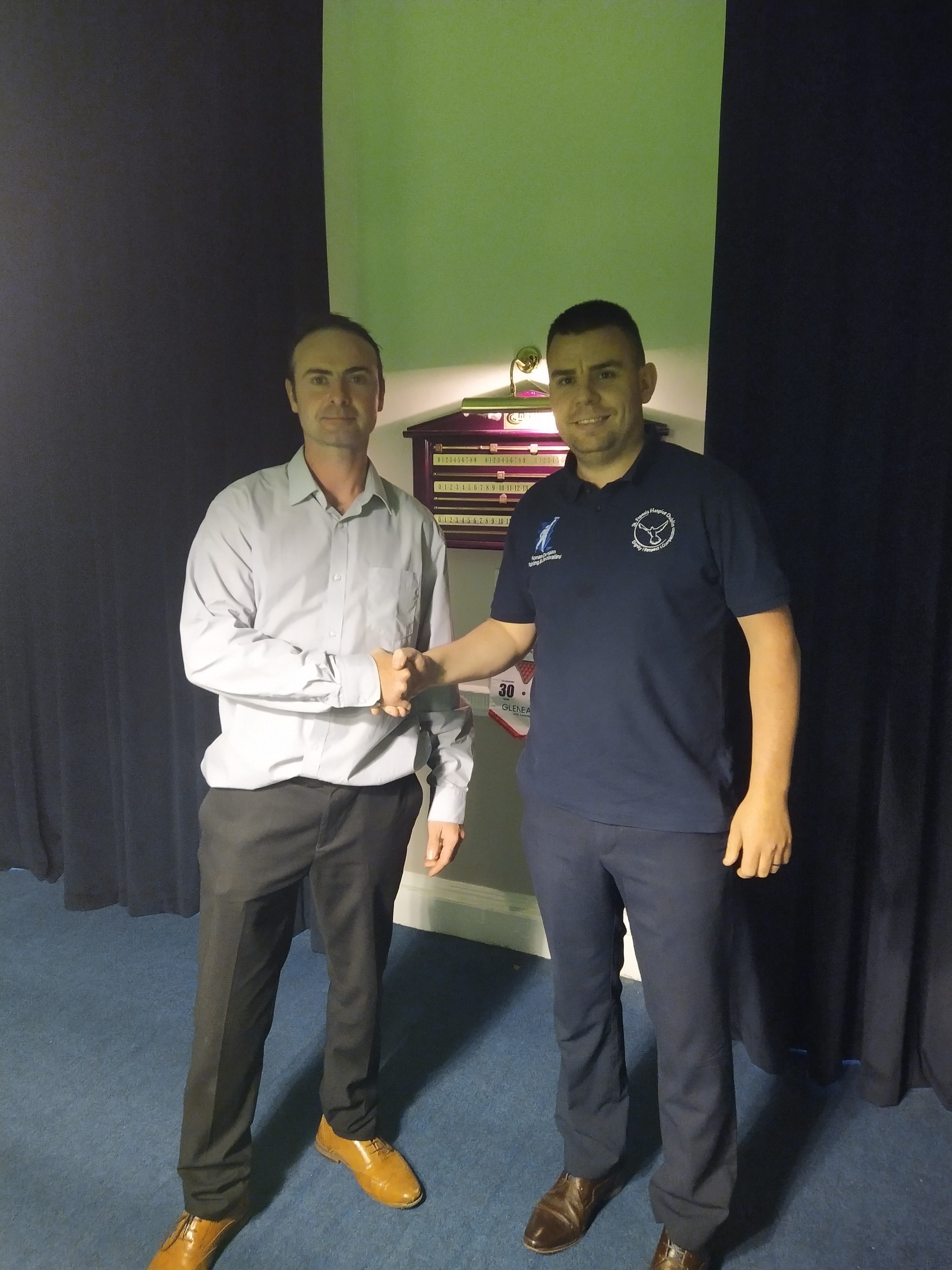 | Winner | Jason Keogh |
| --- | --- |
| Runner Up | Alan Fitzpatrick |
Draw
Pre-Lim Round
+11
Andrew Doherty
2
v
1
Brendan Murphy
+35
First Round
+11
Andrew Doherty
1
v
2
Niall Lawless
+50
+67
Dehna Bennett
0
v
2
Andrew Harvey
+65
+55
Peter Conroy
0
v
2
Daniel Brcko
+67
+45
Daniel McNamee
1
v
2
Alan Fitzpatrick
+66
+55
Jamie Shields
0
v
2
Ivor Fitzpatrick
+20
+65
Mark Dunne
1
v
2
Kevin O'Brien
+35
+20
Jason Keogh
2
v
1
Brian O'Rourke
+40
+67
Pat Smullen
2
v
0
Bye
-
Quarter Finals
+50
Niall Lawless
2
v
1
Andrew Harvey
+65
+65
Daniel Brcko
0
v
2
Alan Fitzpatrick
+66
+20
Ivor Fitzpatrick
1
v
2
Kevin O'Brien
+35
+20
Jason Keogh
2
v
1
Pat Smullen
+67
Semi Finals
+50
Niall Lawless
1
v
3
Alan Fitzpatrick
+66
+35
Kevin O'Brien
2
v
3
Jason Keogh
+20
Final
+15
Jason Keogh
3
v
1
Alan Fitzpatrick
+66
Event details
Venue: Pioneers
Entrance Fee: 20 Euro entry fee includes table charges.
Format: All matches are best of 5
Handicaps: DBSL handicaps used.
Time: 10.00am Start
Dress code: Trousers and polo neck shirt