Congratulations to Ivor Fitzpatrick who wins the third installment of the DBSL handicap series held in Pioneers Snooker Club today.
Ivor beat Mark Dunne, off Pioneers Black, 2-1 in the last 16, then beat Conor Harkin, off roadstone D, 2-0 in the quarter final and went on to win 2-1 in a close fought semi final match against Paul Dunne off Pool Knight Shack.
Ivor faced Daniel McNamee off pioneers Black in the final where he won 2-0.
Daniel had a great run to the final himself beaten Eric Pei, Stephen Byrne Snr and Kevin O'Brien on his way.
DBSL would also like to thank the Pioneers Club, including Niall Lawless and Ivor fitzpateick for their hospitality throughout the day. Special mention to Mark Dunne who put on a great breakfast for the players.
Full details of the event below.
Runner up and winner: Daniel McNamee and Ivor Fitzpatrick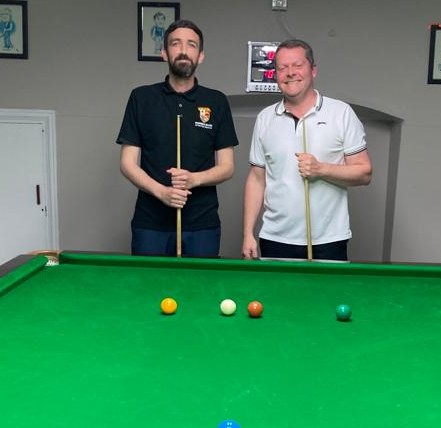 Draw
Pre-Lim Round
10am Start
+42
Joey Kenny
2
v
0
Paddy Brady
+31
10am Start
+65
Pat Smullen
0
v
2
Daniel McNamee
+47
10am Start
+67
Denha Bennett
2
v
0
W/O Jason Keogh
+20
10am Start
+40
Brian O'Rourke
2
v
0
Daniel Merrigan
+22
11am Start
+10
Paul Dunne
2
v
0
Andrew Harvey
+65
11am Start
+50
Fergal Hagen
2
v
0
W/O Darren Savage
+25
11am Start
+25
Eric Pei
0
v
2
Mark Dunne
+65
Last 16
12.30 Onwards
+75
Stephen Byrne Snr
2
v
1
Joey Kenny
+42
12.30 Onwards
+37
John Maher W/O
0
v
2
Daniel McNamee
+47
12.30 Onwards
+45
Aaron Power
2
v
0
Dehna Bennett
+67
12.30 Onwards
+35
Kevin O'Brien
2
v
1
Brian O'Rourke
+40
12.30 Onwards
+50
Niall Lawless
0
v
2
Paul Dunne
+10
12.30 Onwards
+28
Tommy Murphy
0
v
2
Fergal Hagen
+50
12.30 Onwards
+20
Ivor Fitzpatrick
2
v
1
Mark Dunne
+65
11.30 Start
+37
Aidan Phelan
0
v
2
Conor Harkin
+36
Quarter Finals
+75
Stephen Byrne Snr
0
v
2
Daniel McNamee
+47
+45
Aaron Power
1
v
2
Kevin O'Brien
+35
+10
Paul Dunne
2
v
1
Fergal Hagen
+50
+20
Ivor Fitzpatrick
2
v
0
Conor Harkin
+36
Semi Finals
+47
Daniel McNamee
2
v
0
Kevin O'Brien
+35
+10
Paul Dunne
1
v
2
Ivor Fitzpatrick
+20
Final
+47
Daniel McNamee
0
v
2
Ivor Fitzpatrick
+20
Event details
Venue: Pioneers
Entrance Fee: 20 Euro entry fee includes table charges
Format: All matches are best of 3
Handicaps: DBSL handicaps used
Time: 10.00am Start
Dress code: Trousers and polo neck shirt